Elijah Bristow State Park is on the flood plain of the coast fork of the Willamette river. Forest and meadow continue their ancient competition in this area that while not pristine provides clues to what vegetation in the Willamette river valley was like before the massive changes brought by European conquest.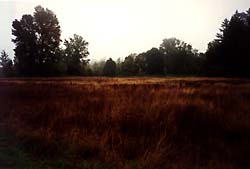 Grasses in fields rely on disturbance. Grasses have a competitive advantage over trees in areas that experience frequent disturbance. Here this disturbance might be the periodic flooding of the Willamette river. For thousands of years disturbance in the Willamette valley came from human caused fire. Now, it is a tractor that maintains many remaining Willamette valley grasslands, including the field on the right.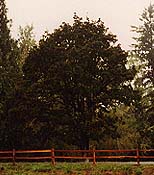 Oregon white oak, Quercus garryana, are prevalent in the grassy areas around the river. Oaks and meadow extend up the hills -- especially the south-facing slopes or in areas with shallow soils. A few of these oaks are older than 200 years and predate European settlement. Oregon white oak, also known as Gary oak, is the predominate oak found in the Willamette valley although some California black oaks are also around. Oregon white oak is easy to identify by its characteristic oak leaves. Like all white oaks the lobes on its leaves are rounded, while on the black/red oaks the lobes are pointed. So in most of the valley its easy to tell which oak you are looking at. An oak's generally round crown is one way to recognize it from a distance.

Oaks were an important part of the pre-European vegetation in the Willamette valley both to other organisms and indigenous people. The Calapooyans, who occupied this part of the Willamette valley, and Native Americans in other areas periodically burned the oak grasslands for a variety of reasons. A study in the Oregon white oak woodlands of Humbolt Redwoods State Park, California, revealed a history of fire every 7.5 to 13.3 years during the pre-European era (cite).
Historically, Oregon white oak was subjected to a fire regime of low-severity surface fires occurring every few years. Oregon white oak has adapted to these low- to moderate-severity fires by sprouting from the bole, root crown, and roots; sprouts grow far more rapidly than do seedlings; and young trees not subjected to periodic top-kill by fire followed by sprouting often do not attain sexual maturity before they succumb to herbivores. Initial establishment of seedlings is somewhat dependent on fire also.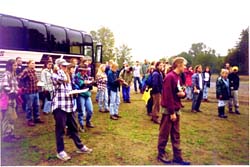 Almost all grasses in the Willamette valley are non-native. In fact, this is true of almost all grasslands in the US. European settlers and pathogens greatly affected native people and North American ecosystems. Other introduced organisms, ranging from rusts to rats, have also greatly altered North American ecosystems. I have linked some information about non-native species and the environmental history of the conquest of America below. I would recommend Changes in the Land by William Cronon or any number of other good books you can find on this interesting subject.
White Alder Alnus rhombifolia, Western Red cedar Thuja plicata, Incense cedar Calocedrus decurrens, blackberries, along with Licorice fern and other epiphytic plants were also seen in this area. The elevation here is 110 meters, mean annual temp is 11.2 centimeters, and mean annual precipitation is 1040mm.
---